Solo by Rana Dasgupta

Solo recounts the life and daydreams of a reclusive one hundred year-old man from Bulgaria. Before the man lost his sight, he read this story in a magazine: a group of explorers came upon a community of parrots speaking the language of a society that had been wiped out in a recent catastrophe. Astonished by their discovery, they put the parrots in cages and sent them home so that linguists could record what remained of the lost language. But the parrots, already traumatised by the devastation they had recently witnessed, died on the way. Wondering if, unlike the hapless parrots, he has any wisdom to leave to the world, Ulrich embarks on an epic armchair journey through a century of violent politics, forbidden music, lost love and failed chemistry, finding his way eventually to an astonishing epiphany of tenderness and enlightenment.

Siddon Rock by Glena Guest

With sprinklings of magic realism and a deft hand for compelling characters, Glenda Guest has created one of the loveliest debut novels I've read in a long while. Many of the residents of the small, isolated town of Siddon Rock have washed up there with complicated lives behind them-or are descended from those with complex stories. They are seeking refuge from the wider, wilder world and finding some sort of peace and/or shelter in the town's isolation. Over the course of the book a return, an arrival, and a sudden departure mark the points on which the narrative hinges, drawing you into the ways in which each of the townsfolk deal with the rumples in their lives. If I have one critique, it is that the character development sometimes comes at the expense of the narrative.

The Twin by Gerbrand Bakker

Helmer van Wonderen is a farmer. For forty years he's lived a stalled, frustrated life, with every decision on the farm being made by his father. It wasn't the life Helmer intended. Through childhood he was one half of twins – an entity he even thought of inwardly as 'Henk and Helmer'. But Henk was killed at eighteen in a car driven by his girlfriend, Riet, who was then ordered away by the boys' grieving father. Helmer was called home from university to take his brother's place on the farm. And then the mother he loved died.
Shortlist 2010







Wolf Hall by Hillary Mantel

Set in England in the 1520s, Henry VIII is on the throne, but has no heir. Cardinal Wolsey is his chief advisor, charged with securing the divorce the pope refuses to grant. Into this atmosphere of distrust and need comes Thomas Cromwell, first as Wolsey's clerk, and later his successor. Cromwell is a wholly original man: the son of a brutal blacksmith, a political genius, a briber, a charmer, a bully, a man with a delicate and deadly expertise in manipulating people and events. Ruthless in pursuit of his own interests, he is as ambitious in his wider politics as he is for himself. His reforming agenda is carried out in the grip of a self-interested parliament and a king who fluctuates between romantic passions and murderous rages.
NY Times Review ׀ NPR Interview
Shortlist 2009

Man Booker International Prize 2009
Alice Munro is the winner of the third Man Booker International Prize.
Worth £60,000 to the winner, the prize is awarded every two years to a living author who has published fiction either originally in English or whose work is generally available in translation in the English language. Nigerian writer, Chinua Achebe won the 2007 prize and Albanian writer, Ismail Kadare won the inaugural prize in 2005 and went on to gain worldwide recognition for his work.
The Man Booker International Prize echos and reinforces the annual Man Booker Prize for Fiction in that literary excellence will be its sole focus. The Man Booker International Prize is significantly different from the annual Man Booker Prize for Fiction in that it highlights one writer's overall contribution to fiction on the world stage. In seeking out literary excellence the judges consider a writer's body of work rather than a single novel.

Let the Great World Spin by Colum McCann

Shadow Country is an epic of American rise and descent—poetic, mythic, devastating. From his Everglades trilogy Peter Matthiessen has coaxed a masterpiece, a wrenching story of familial, racial and environmental degradation stretching from the Civil War to the Great Depression. His E.J. Watson emerges through a dazzling array of voices as a singular figure in our national literature, the looming personification of manifest destiny within the dark reaches of our history.
Finalists 2009

Winner

Hilary Mantel's Wolf Hall, winner of last year of the Man Booker Prize in London, was honored On March 23rd on this side of the Atlantic Ocean.
The novel, set in the age of King Henry VIII, won the National Book Critics Circle Prize for fiction. It's a compassionate narrative of royal adviser Thomas Cromwell, a leading enforcer of the English Reformation and a rival of Sir Thomas More.
Finalists



New York Times Best Books of 2009
New York Times 100 Notables for 2009


Nobel Prize for Literature 2009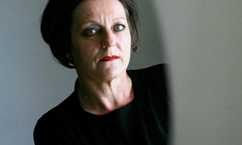 "The Nobel Prize in literature for 2009 is awarded to the German author Herta Mueller, who with the concentration of poetry and the frankness of prose depicts the landscape of the dispossessed," he said.

A member of Romania's ethnic German minority, Mueller knew persecution under the rule of the Ceausescu regime. Her work, which was censored by the then communist government in Romania was smuggled into Germany where it received rave reviews. Eventually in 1987, she emigrated to Germany with her husband. Her writing of the harshness of life in a small, German-speaking Romanian village spoke of corruption and repression and her fight for free speech.

Lacuna by Barbara Kingsolver

Born in the US and reared in a series of provincial households in Mexico, Harrison Shepherd is mostly a liability to his social-climbing mother, Salomé; his fortunes remaining insecure as Salomé finds her rich men-friends always on the losing side of the Mexican Revolution. Harrison aims for invisibility, observing his world and recording everything in his notebooks with a peculiar selfless irony. Life is what he learns from servants putting him to work in the kitchen, errands he runs on the streets. Then, one day, he ends up mixing plaster for famed Mexican muralist, Diego Riviera – which leads to a job in Riviera's house, where Harrison makes himself useful to the muralist, his wife Frida Kahlo and the exiled Bolshevik leader, Lev Trotsky.


NY Times Review ׀ NPR Interview
Shortlist 2010

War Dances by Sherman Alexie
With bright insight into the minds of artists, entrepreneurs, fathers, husbands, and sons, Alexie populates his stories with average men on the brink of exceptional change: In the title story, a son recalls his father's "natural Indian death" from alcohol and diabetes, just as he learns that he himself may have a brain tumor; The Ballad of Paul Nonetheless,dissects a vintage clothing store owner's failing marriage and courtship of a Puma-clad stranger in airports across the country; and Breaking and Entering recounts a film editor's fateful confrontation with an thieving adolescent.
Finalists 2009

Tinkers by Paul Harding

An old man lies dying. Confined to bed in his living room, he sees the walls around him begin to collapse, the windows come loose from their sashes, and the ceiling plaster fall off in great chunks, showering him with a lifetime of debris: newspaper clippings, old photographs, wool jackets, rusty tools, and the mangled brass works of antique clocks. Soon, the clouds from the sky above plummet down on top of him, followed by the stars, till the black night covers him like a shroud. He is hallucinating, in death throes from cancer and kidney failure.
NY Times Review ׀ NPR Interview
Finalists 2009